In just over a week the first eight Coordinated Care Organizations will begin serving Oregon Health Plan members on August 1. Several more will begin in September.
This begins what I believe will be a profound change to our health care system in the years to come.
To help explain this coming change, we have been talking since March 2011 about CCOs and the vision of transforming health care to be a more person-centered, integrated system. This has been part of the public conversation about health reform in communications with clients, in the media, in presentations, in the legislature and in this message every week.
There continues to be very high interest in how CCOs will work in local communities. Last week 600 people logged into a webinar focused on the health providers and CCOs.
We have also put together information geared to OHP providers and clients that is available at www.health.oregon.gov.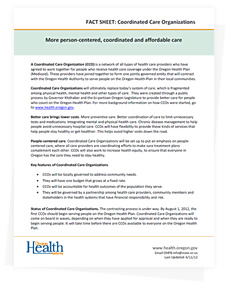 Here you can find presentations and information sheets about Coordinated Care Organizations. We also have personal stories of how better coordinated care can make a positive difference in the lives of the people in our state.
All of these materials are available for your use. Please print them, share them, and let us know what other information you think should be included.
One truism about change at this scale is that you can't communicate about it too much. As we move forward in creating this new health care system we will continue telling the story so that everyone will understand what it means when our communities come together for better health, better care, and lower costs.