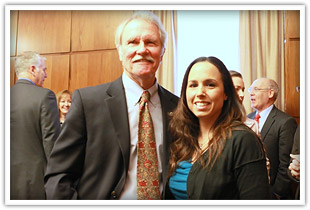 Governor Kitzhaber with
Becky Wilkinson
, an outreach worker who helps bring better care for lower costs. Her work points the way to the future of coordinated care.
I was proud to be present today at the bill signing for SB 1580, the legislation we have been working on to launch Coordinated Care Organizations. It has been an amazing effort by everyone at the Oregon Health Authority and our partners to get us to this moment.
Things will be moving forward quickly now. Yesterday we submitted the Request for a Waiver Amendment to the Centers for Medicare and Medicaid Services to give local CCOs the flexibility they need to focus on improved health and integrated care. Monday will start a public process to begin finalizing the documents for the Request for Applications for CCOs and the temporary rules.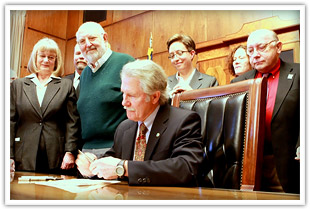 Governor Kitzhaber signing SB 1580.
You can learn more about the next steps and see a timeline at health.oregon.gov.
Many thanks to everyone who got us to this moment. Here are some photos from the event. You can also watch the Governor's remarks before he signed the bill.