This morning Governor Kitzhaber signed into law Senate Bill 99, which establishes Oregon's Health Insurance Exchange, and House Bill 3650, which lays the ground work for transforming health care in our state.
The Governor was joined by health care stakeholders, members of the Oregon Health Policy Board, clients of the Oregon Health Plan and many of us from the Oregon Health Authority.
We had a lot to celebrate during this event. It has been a long road to get to this point, and it's a road that started long before the 2011 legislative session. And the signing of this legislation isn't the end, it's the beginning. We will have a lot of work to do over the next six months and beyond to turn the vision of the bills into reality.
But for now, let's take some time to recognize the good work that we have done for our clients and for our state. I am deeply proud of this organization and the people who are a part of it. Thank you, each and every one of you, for the contributions you make toward our work, our mission, and our vision. We have a great team. Please have a safe and happy Independence Day.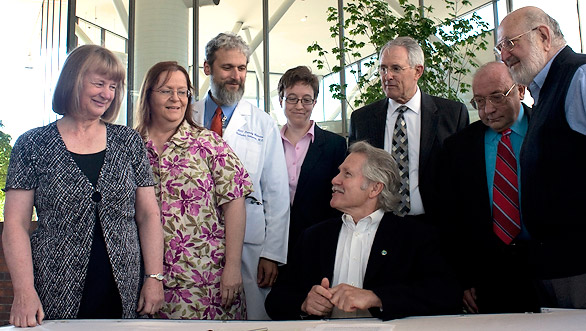 Gov. John Kitzhaber after signing SB 99 and HB 3650 with (l-r): Sen. Laurie Monnes Anderson (D), patient Kay Dickerson, Dr. Nick Gideonse, Rep. Tina Kotek (D), Sen. Frank Morse (R), Rep. Jim Thompson (R), Rep. Mitch Greenlick (D).